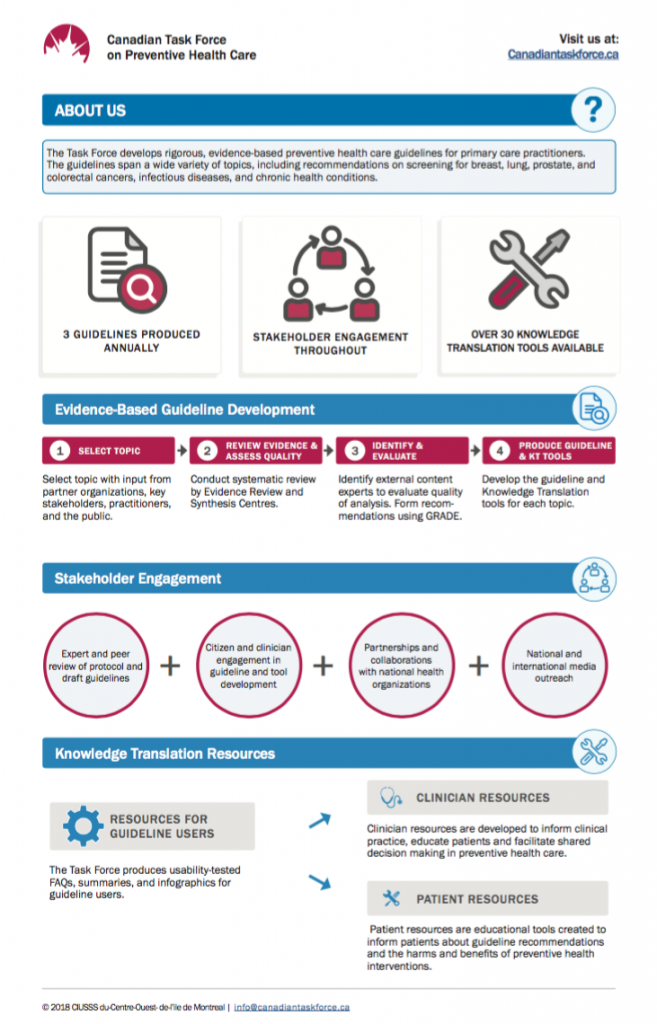 Who We Are
The Canadian Task Force on Preventive Health Care was established by the Public Health Agency of Canada (PHAC) to develop clinical practice guidelines that support primary care providers in delivering preventive health care.
Guideline development is based on systematic analysis of scientific evidence.
The Task Force:
Decides on the topics for which guidelines will be developed (or updated). Decisions are informed by consultation with PHAC and Health Canada, as well as professional health associations, health charities, academic institutions, guideline producers in other countries and other relevant parties.
Directs the Evidence Synthesis Centres in the systematic review of scientific evidence according to key questions developed by the Task Force.
Uses GRADE methodology for assessing strength of evidence based on best-practice scientific methods.
Identifies when to involve experts in other disciplines to ensure the comprehensiveness of the analysis.
Evaluates systematic review evidence to develop consensus recommendations.
Develops guidance documents for each prevention topic to facilitate implementation by primary health care providers.
Identifies evidence gaps that need to be filled and articulate a research agenda to facilitate new research.
Who are the Task Force Members?
The Task Force is an independent body of 15 primary care and prevention experts who recognise and support the need for evidence-informed preventive activities in primary care in Canada. Learn more about each of the Task Force members by viewing the member biographies.
What is the Target Audience?
Primary health care professionals are the Task Force's primary target audience. The work of the Task Force is also relevant to community and public health professionals (public health nurses, nutritionists), physician specialists, other health care and allied health professionals, program developers, policy makers, and the Canadian public.
Structure & Partners
Task Force 15 independent experts in prevention and primary care.

Global Health and Guidelines Division (PHAC) Provides scientific and technical support to the Task Force

Evidence Review and Synthesis Centres Develop evidence reviews to support guideline development

Knowledge Translation (KT) Program, St. Michael's Hospital Provides knowledge translation, enhanced dissemination of guidelines, evaluation, stakeholder engagement and public communication support