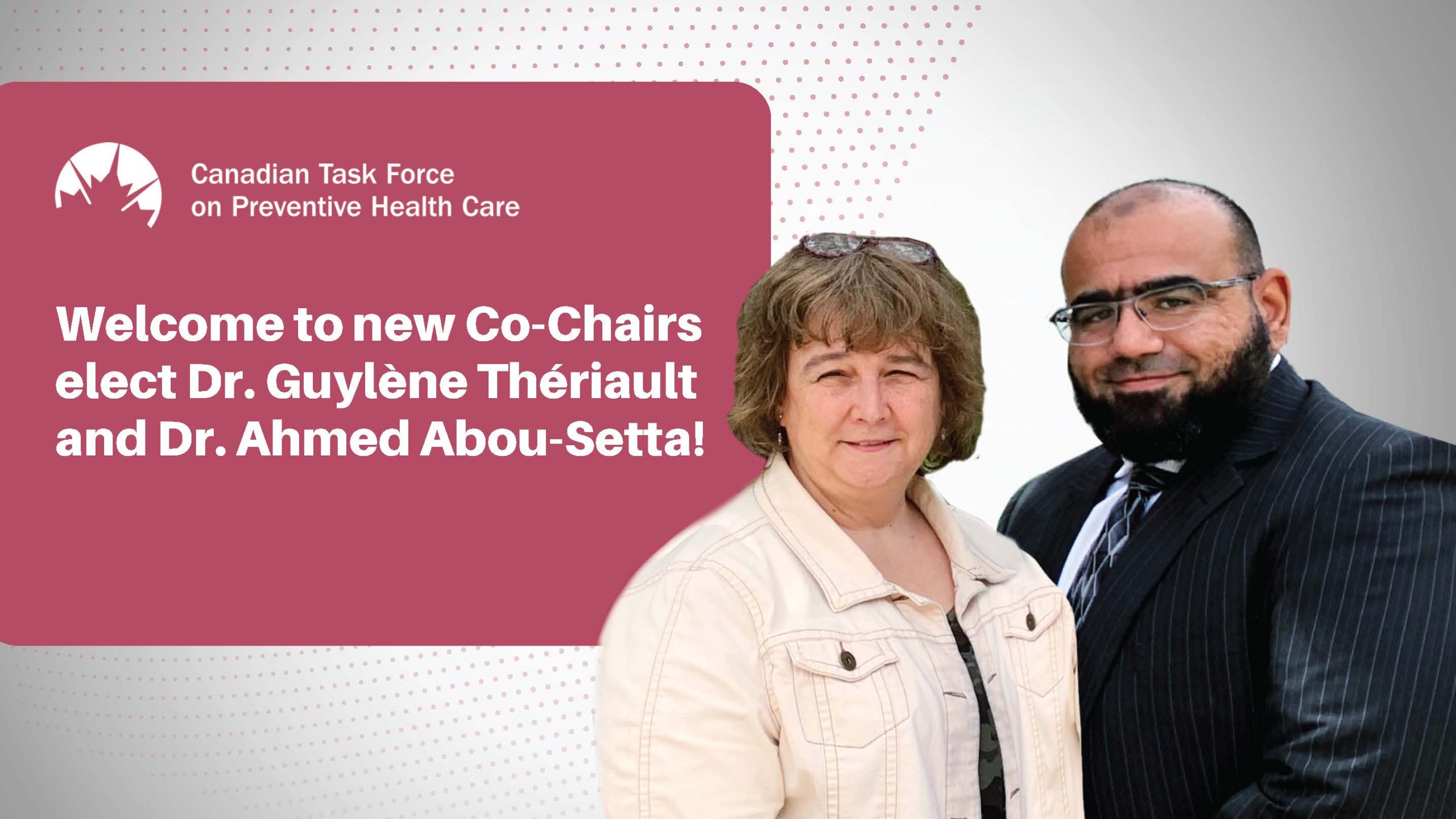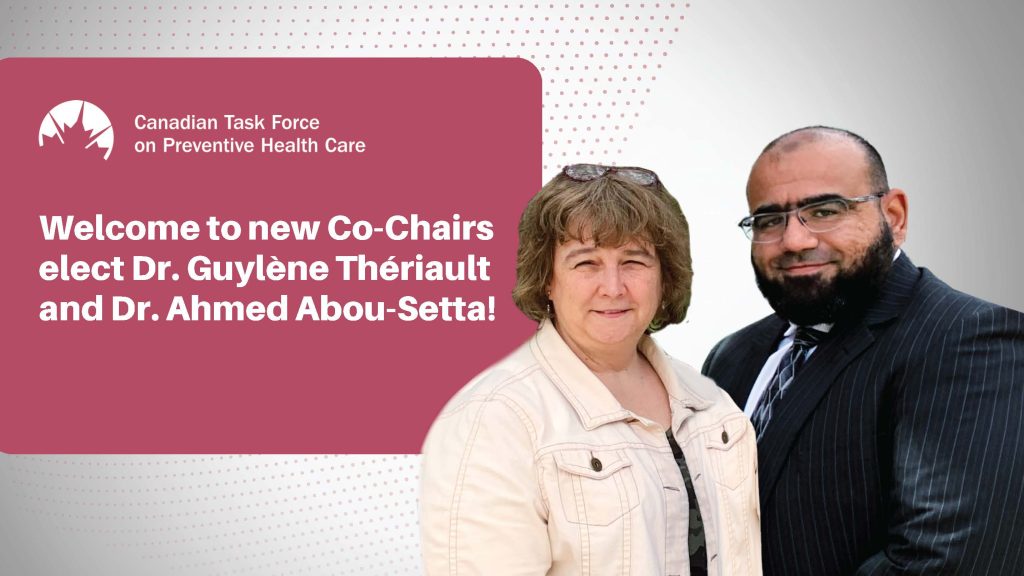 We're thrilled to welcome Drs. Ahmed Abou-Setta and Guylene Theriault as incoming Co-Chairs of the Canadian Task Force on Preventive Health Care. They will take over from Drs. Brenda Wilson and Roland Grad who have led the group for the last 18 months.
Dr. Theriault is a long-time Task Force member and family physician-educator located in Gatineau, Quebec. She teaches evidence-based medicine and shared decision-making to students, residents and physicians through the McGill Campus in Outaouais and is the founder of EBM Quebec.
"It's a great joy to be named as Co-Chair of the Task Force," said Dr. Theriault. "I've had the honour of being a member of the Task Force for several years now and have seen all the good we've accomplished. I'm excited to co-chair with my colleague Dr. Abou-Setta, and I'm confident that our work with our members and partner organizations will lead to preventive health care guidelines our doctors and nurses can rely on to keep Canadians healthy."
An assistant professor at the University of Manitoba, Dr. Abou-Setta is a Principal Investigator at the CIHR-funded Manitoba SPOR SUPPORT Unit and leads Knowledge Synthesis at the George & Fay Yee Centre for Healthcare Innovation. He brings a perspective from central Canada as well as expertise in guideline development and systematic reviews, patient engagement in research and more. Even before joining the Task Force in 2019, he was very involved in Task Force methods as the Section Editor who oversaw the peer-review process of Task Force systematic reviews and protocols at the Journal of Systematic Reviews. He has also been involved in several Task Force guidelines and leads the Methods Working Group that is charged with updating the Task Force methods manual (a living document that enshrines the most up-to-date methods used by the Task Force).
"It is an honour and privilege to be entrusted with co-leading the Task Force with Dr. Theriault," said Dr. Abou-Setta. "Some of the greatest minds of our time work with the Task Force every day to ensure Canadians receive the highest level of care. To say that I am both standing on the shoulders of giants and at the same time following in the footsteps of great leaders is an understatement. Personally, I have had the great fortune to learn from past Task Force leaders including Drs. Grad and Wilson. They have shown resilience and strength during times of adversity. I look forward to continuing to making a positive impact on the lives of all Canadians for years to come."
---
Farewell and a huge thank you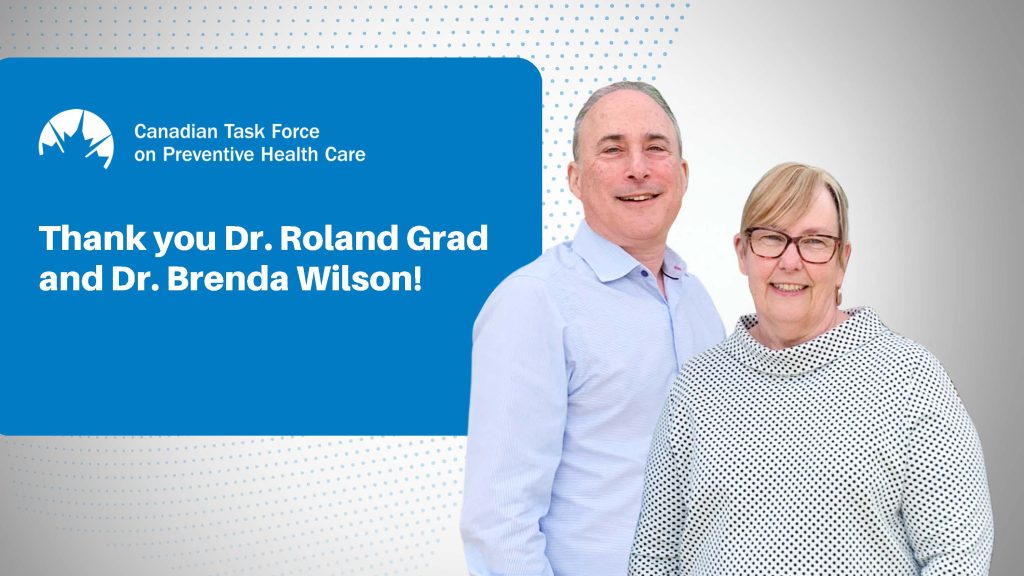 Dr. Wilson's measured approach, witty quips, public health expertise and warm personality will be missed at the helm of the Task Force. She steps down from the group in June after 8 years and will stay busy as a professor and Associate Dean of Community Health and Humanities at Memorial University, Newfoundland and Labrador.
A member since 2013, Dr. Grad will transition out of the role of Co-Chair as the new chairs ramp up. He will remain a member until the end of 2023 when he steps down after more than two terms with the group.
"As a practicing family physician, for over three decades I have followed the work of the Canadian Task Force on Preventive Health Care with great interest," said Dr. Grad. "Unexpectedly, I was offered the opportunity to support the Task Force as interim co-chair – at a particularly challenging moment in time. As I step away, I want to thank many people for their help and guidance – Daniela Cortinovis, Maurica Maher and fellow task force members, in particular Brenda Wilson, Scott Klarenbach and Brett Thombs."
We are grateful to the retiring co-chairs for their hard work and commitment and look forward to new directions with Drs. Theriault and Abou-Setta.
---
About the Task Force
The Canadian Task Force on Preventive Health Care is an independent panel of health professionals who are experts in clinical preventive health care and guideline methodology. This panel develops evidence-based clinical practice guidelines to help primary care providers deliver preventive health care, as well as related tools and resources to help Canadians stay healthy.